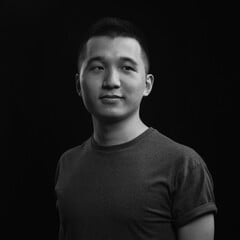 Min Guen
Senior Concept Artist @ Sucker Punch Productions
Vancouver, Canada
Summary
Hi, my name is Min. I am a Concept Artist with over 9 years of experience in Video Games, VR & Metaverse projects, TV and Feature Films.
Currently working as a Senior Concept Artist at Sucker Punch Productions (Sony).
Clients include Microsoft, Netflix, Marvel TV, Amazon TV, Crytek, Apple TV & many more.
My principal skills are in Environment Concept Art, Keyframe art, Visual Development, and Art Direction.
Skills
Concept Art
Concept Design
Art Direction
Visual Development
World Building
Environment Design
keyframe
Illustration
Digital Painting
Architectural Design
Set Design
Prop Design
Matte Painting
Character Design
3D Modeling
Software proficiency
Productions
Video Game

Gears 5 (Multiplayer)

Year

2020

Role

Concept Artist

Company

Coalition, Microsoft

TV Production

Snowpiercer

Year

2020

Role

Concept Artist

Company

FuseFX

TV Production

Agents of S.H.I.E.L.D

Year

2020

Role

Concept Artist

Company

FuseFX

TV Production

Penny Dreadful: City of Angels

Year

2020

Role

Concept Artist & Matte Painter

Company

FuseFX

TV Production

Lost In Space

Year

2019

Role

Concept Artist

Company

FuseFX

TV Production

Castle Rock

Year

2019

Role

Concept Artist

Company

FuseFX

TV Production

The Terror: Infamy

Year

2019

Role

Concept Artist

Company

FuseFX

TV Production

Deadly Class

Year

2019

Role

Concept Artist

Company

FuseFX

TV Production

The 100

Year

2019

Role

Concept Artist

Company

FuseFX

Movie

Animal world

Year

2018

Role

Senior Concept Artist

Company

FZD Films

Movie

Sky Hunter

Year

2017

Role

Senior Concept Artist

Company

FZD Films

Video Game

Lawbreakers

Year

2016

Role

Freelance Concept Artist

Company

Boss Key Productions

Video Game

Warface

Year

2014

Role

Concept Artist

Company

Crytek
Experience
Senior Concept Artist at Sucker Punch Productions (Sony)

Bellevue, WA, United States of America

Senior Concept Artist at The Coalition (Microsoft)

Vancouver, Canada

- Projects: Gears 5 (Multiplayer), Unannounced project

- Creating concept art for multiple products in the Gears 5 franchise, from blue sky to production and marketing art.


Concept Artist at FuseFx

Vancouver, BC, Canada

September 2018 - May 2020

Senior Concept Artist at FZD Films

Singapore, Singapore

Freelance Concept Artist at Boss Key Production

North Carolina, United States of America

August 2014 - February 2016

I was lucky to work with Cliff Bleszinski and art director Tramell Isaac on the project Lawbreakers from the early preproduction to production stages.

My focus was in architecture and environment design.

Here is a gameplay trailer link: https://www.youtube.com/watch?v=xxsbtkeLh8I

-"blue sky" concepts

-environment and architecture design

-Paint over 3D geometry

-Illustration and Mood concepts


Concept Artist at Crytek

Kiev, Ukraine

September 2013 - September 2014

Project: Warface

Worked closely with lead artist, art director and level designers to devise the visual direction of the game:

- Rough sketches to final illustrations for environments

- Vehicles and props design

- Paint over top of 3D geometry

- Illustrations and Mood concepts

Trailer link: https://www.youtube.com/watch?v=Aj-GrktsShk

Freelance Concept Artist at Dreamworks

Glendale, United States of America

Pitch art for Dreamworks Animation